A $40 Billion Industry Ripe For Disruption
The residential cleaning industry is experiencing a surge in consumer demand due to the growing number of dual-income households and more families working from home. The rising demand for our services has created a marketplace that is expected to reach roughly $47 billion in the U.S. by 2026.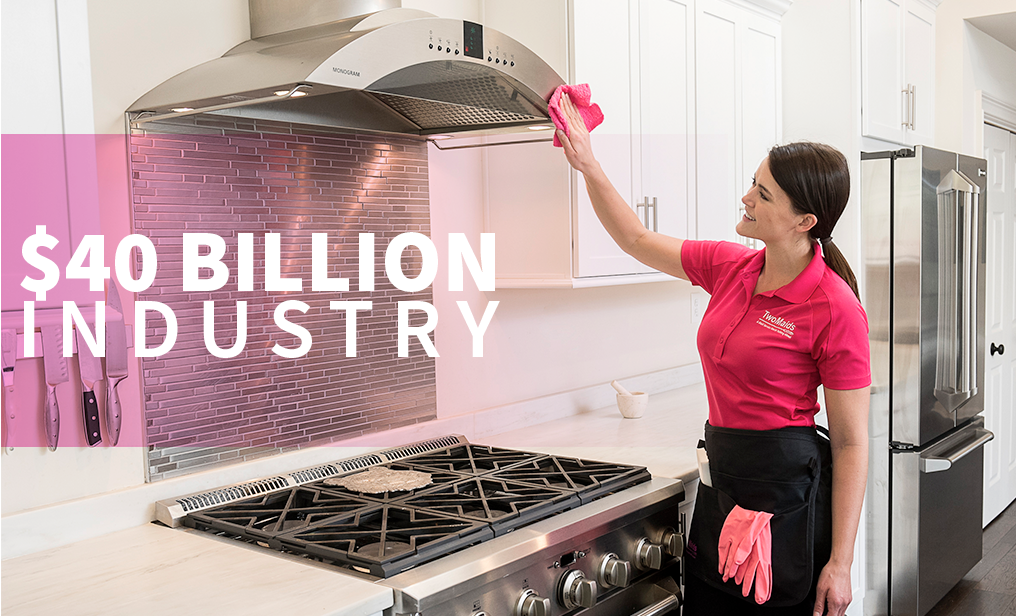 It is clear that the demand for professional home cleaners is growing. Unfortunately, more than 90% of the marketplace is served by an extremely fragmented industry comprised of small Mom & Pop operators. The small businesses that currently serve most of the residential cleaning industry are notorious for providing poor customer service and inefficient, inconsistent cleanings. Quite frankly, our industry is one of the few marketplaces where supply has not kept pace with consumer demand. The entire business model of Two Maids & A Mop is designed to provide unique benefits to a consumer that cannot be replicated by a competing house cleaning company or individual.
Unique Benefits of Our Business Model
Digital Marketing Experts
We invest 100% of our marketing spend to digital channels such as pay per click, social media and search engine optimization. Getting in front of a qualified lead that is ready to make a buying decision is our main priority. This approach allows us to generate a much higher ROI than traditional methods which use offline advertising.
Our Customers Talk
Word of mouth is an essential ingredient of success for a cleaning business. We offer proprietary tools that encourage our customers to talk about their experience in both online and offline environments. Our tagline says it best, "Two Maids & A Mop truly is A Maid Service Worth Taling About!"
Pay for Performance
Employees in our franchise network care more about their job because customer feedback determines the level of compensation they recieve. After each home cleaning, the customer is asked to provide a simple 1-10 rating based on their level of satisfaction. The happier our customer, the more money our professional house cleaners earn.
Immediate Scheduling
Traditionally, consumers hire maid services because their lives are busy and thier time is valuable. Many home owners simply do not have the time for a phone call or in-home estimate to determine the cost of having their home professionally cleaned. We offer a proprietary website that allows customers to receive a quote immediately and book a cleaning within 60 seconds.
Proprietary Software
Our experience within the residential cleaning industry dates back to 2003 and we've literally cleaned more than one million homes since our humble beginnings in Florida. We know how consumers think, we know what employees want, and we also know what management needs in order to run a business. Our custom-built software ties together everyone's needs into a single one-of-a-kind front end and back end product.
Preferred Vendor Relationships
Many small businesses in the cleaning industry struggle to source high quality, cost-efficient products. The size of our franchise network, combined with our decades of experience, allows us to source the best products for the lowest price.
An Attractive Industry With Unique Benefits
Most people interested in starting a new business don't naturally gravitate towards the residential cleaning industry, even though demand for our services is at an all-time high. The nature of our work is dirty and isn't glamorous. But once you get past the dirt and grime, you'll see an amazing business opportunity that provides an owner with unique benefits that can't be found in most industries.
Benefit
Residential Cleaning
Other Consumer Services
Retail
Restaurant
Fitness
Monday-Friday Business
Other Consumer Services
✔
No Nights, No Weekends
Other Consumer Services
×
Low Investment (Less that $150K)
Other Consumer Services
✔
Consistent Recurring Revenue
Other Consumer Services
✔
Paid at Time of Service
Other Consumer Services
×
Highly Fragmented Industry
Other Consumer Services
✔
Semi-Absentee Investment Opportunity
Other Consumer Services
×
Minimal Capital Expenditures
Other Consumer Services
×
Low Cost of Entry
Other Consumer Services
✔
Quick Path to Positive Cash Flow
Other Consumer Services
×
Surging Consumer Demand
Other Consumer Services
✔
High Margin Operating Business Model
Other Consumer Services
✔
Business Opportunity, Not a Job
Other Consumer Services
×
Excellent Work Life Balance
Other Consumer Services
×
Large & Exclusive Territories
Other Consumer Services
✔
Simple Business Plan
Other Consumer Services
✔
No Special Skills Required
Other Consumer Services
×
No Fads, No Seasonality, No Nights, No Weekends, Explosive Demand
Imagine a business opportunity that has been around for more than 30 years and has yet to experience any type of transformational innovation. This is where we are today in the maid service industry. Our industry is not based on a new fad or gimmick which may disappear tomorrow. There is absolutely zero seasonality in our industry because people need their homes cleaned throughout the year. You'll own your nights because the business closes everyday at 5 PM. And since homeowners don't want to be disrupted on the weekend, you'll have your entire weekend to spend with family or friends. This is a great industry that has yet to mature and has plenty of demand in front of it since more and more dual-income households are seeking reliable help inside their home.